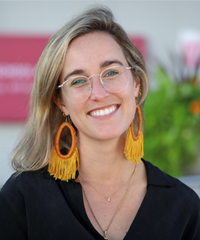 Bethany Holt, MD, MPH is a 2022/3 Post-Doctoral Fellow with the Program in Global Primary Care and Social Change. She joins HMS after graduating from HSPH with an MPH in global health systems and brings a breadth of multi-disciplinary and intersectoral professional experience working to strengthen health systems in the Asia-Pacific.
A medical doctor by training with clinical interests in primary and urgent care, pediatrics and Indigenous health, Dr. Holt practices clinically in tertiary metropolitan and regional/remote settings across Australia. She conducted health systems research, program design and management in the Solomon Islands, Timor-Leste and the Philippines before joining McKinsey and Company's as a management consultant focused health, public and social sector strategy, operations and capability building. Immediately before moving to the US Dr. Holt worked in the strategy team for Australias largest foundation, developing  >$40m of partnerships and grants to address the social determinants of health, and continues to provide pro bono strategy support to primary healthcare not-for-profits.
As a Fellow with HMS Dr. Holt works on a variety of primary care systems projects in the Asia-Pacific. This includes designing and managing a new four-year project to strengthen primary-care based, people-centered management of chronic viral hepatitis in Viet Nam and the Philippines. It involves  collaboration in a team across three countries and aligning public, private and academic stakeholders. Through this work Dr. Holt also looks forward to contributing to the nascent literature on patient- and community-centered approaches to health systems research, policy and service reform, having been long inspired by the mission of Dr. Paul Farmer and PIH colleagues and the model of  "accompaniment" in fighting health inequities.