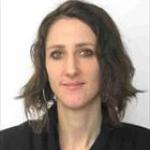 Caterina Hill, MSc
Lecturer on Global Health and Social Medicine
Caterina Hill is a public health epidemiologist who specializes in enabling organizations to evaluate and enhance their impact through quantitative and qualitative research.
In 2016, she joined Commonwealth Care Alliance, a pioneering Health Plan for people with complex needs in Massachusetts and is leading the organization's research and evaluation ventures. She is also Teaching Associate at Harvard Medical School and teaches medical students about Social Medicine and Global Health.
Prior to working at Commonwealth Care Alliance, Caterina focused on the role of mobile clinics in the US. She was Principal Investigator of "Public Health Quality and Mobile Clinics" (funded by AAMC-CDC Co-operative Agreement), as well as co-Investigator of the national Mobile Health Map project and Manager of Evaluation for the Family Van (a Harvard affiliated mobile clinic).
She has been awarded the Heart of our Mission award by the American Heart Association. She served on the National Advisory Committee for the Public Health Improvement Map (U.S. Dept of Health and Human Services).
She has expertise in health disparities, access, quality and health service delivery and advanced skills in epidemiological analysis, STATA, qualitative analysis, grounded analysis, NVIVO.
Address: 
641 Huntington Avenue
Boston, MA 02115
Outcomes of Oral Health Screenings at Two Different Institutions Serving Individuals with Special Health Care Needs in Massachusetts.
Authors: Authors: Sharma K, Popat P, Lee D, Hill C, Kaplan M, Factor CE, Seibel K, Schiano F, De Leon R, Itty A, Nalliah RR.
J Mass Dent Soc
View full abstract on Pubmed
Mobile health clinics in the era of reform.
Mobile clinic in Massachusetts associated with cost savings from lowering blood pressure and emergency department use.
Knowledgeable Neighbors: a mobile clinic model for disease prevention and screening in underserved communities.
Authors: Authors: Hill C, Zurakowski D, Bennet J, Walker-White R, Osman JL, Quarles A, Oriol N.
Am J Public Health
View full abstract on Pubmed
The effect of operative timing on functional outcome after isolated spinal trauma.
Insurance status and hospital discharge disposition after trauma: inequities in access to postacute care.
Insights into the rise in HIV infections, 2001 to 2008: a Bayesian synthesis of prevalence evidence.
Authors: Authors: Presanis AM, Gill ON, Chadborn TR, Hill C, Hope V, Logan L, Rice BD, Delpech VC, Ades AE, De Angelis D.
AIDS
View full abstract on Pubmed
Monitoring the emergence of community transmission of influenza A/H1N1 2009 in England: a cross sectional opportunistic survey of self sampled telephone callers to NHS Direct.
Authors: Authors: Elliot AJ, Powers C, Thornton A, Obi C, Hill C, Simms I, Waight P, Maguire H, Foord D, Povey E, Wreghitt T, Goddard N, Ellis J, Bermingham A, Sebastianpillai P, Lackenby A, Zambon M, Brown D, Smith GE, Gill ON.
BMJ
View full abstract on Pubmed
Coming home to die? The association between migration and mortality in rural South Africa.
Eurosurveillance, November 2009, 14(47)
Authors: Authors: H,ill, C, McKinney, E, Lowndes, CM, Munro,H, Murphy, G, Parry, JV, Gill, ON the GUM Anon Network
Epidemiology of herpes simplex virus types 2 and 1 amongst men who have sex with men attending sexual health clinics in England and Wales: implications for HIV prevention and management