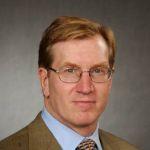 James C. Cusack Jr., M.D.
Associate Professor of Surgery and Department of Global Health and Social Medicine Affiliate
James C. Cusack, Jr., MD, FACS, associate professor of surgery, Division of Surgical Oncology, and affiliate of the Harvard Medical School (HMS) Program in Global Surgery and Social Change, is engaged in improving the delivery of surgical cancer care in resource-limited countries such as Bangladesh, Liberia, Kazakhstan, the Philippines, Rwanda, Botswana, and Uganda. In August 2013, Dr. Cusack traveled with 400 pounds of donated surgical supplies from the Massachusetts General Hospital (MGH) operating room to Rwanda's national center for cancer care, Butaro Hospital and Cancer Center, in Burera District, Northern Province. Built in 2011 as part of the ongoing collaboration between Partners In Health (PIH) and the Rwanda Ministry of Health, Butaro Hospital is a 150-bed facility that was designated the only cancer "Center of Excellence" in the country. The hospital sets the national standard for delivery of advanced cancer care in low- and middle-income countries with teaching and clinical partnerships from an international consortium that includes HMS and HMS-affiliates. Dr. Cusack performed surgical operations and trained Butaro Hospital's only general surgeon, Dr. Patrick Okao, in the management of cancer, especially breast, colon, and gastric. Dr. Cusack's two-week visit was sponsored by the Dana-Farber Cancer Institute, PIH, and Jeff Gordon Children's Foundation, with additional support from Rwanda's Human Resources for Health (HRH) Program and surgical equipment donations from Covidien.
In September 2013, Dr. Cusack presented his findings from his experience in Rwanda at the 6thAnnual Meeting of the Alliance for Surgery and Anesthesia Presence (ASAP) in a lecture entitled, "Providing Multidisciplinary Cancer Care in Rwanda: What is the Standard of Care?" In November 2013, Dr. Cusack traveled to Mbarara, Uganda, with a group from the Massachusetts Eye and Ear Infirmary led by Dr. Mack Cheney. At the Mbarara University of Science and Technology, this group met with local academicians, surgeons, physicians, and residents to learn how surgeons at the MGH can collaborate to improve the care provided to the underserved of western Uganda. In fall 2013, Dr. Cusack was appointed ad hoc Director of the MGH Global Surgery Program to coordinate international Global Surgery efforts within the Surgery Department for providing surgical education and improving access to advanced surgical care in developing countries. In January 2014, Dr. Cusack was invited to participate at the Lancet Commission on Global Surgery held in Boston. In February 2014, Dr. Cusack was also invited to speak at the Global Oncology Symposium 2014: Global Cancer Care-Challenges and Opportunities. In March 2014, he was invited to attend the "Meeting the Challenge of Cancer in Botswana" in Gaborone, Botswana, to address the management of key cancers related to AIDS.  This meeting will be jointly sponsored by the Ministry of Health of Botswana, Medical School of Botswana, Botswana/Harvard Partnership for AIDS, and three University Cancer Centers (Massachusetts General, University of Pennsylvania, and Baylor/Texas Children's Hospital).