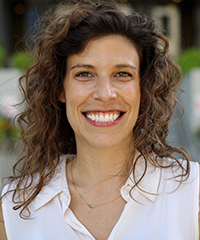 Natali Carmio , PsychD
Research Assistant II, Mental Health for All Lab
Natali Carmio, PsychD. is the Student Research Assistant, on the EMPOWER project. She is a clinical psychologist from Buenos Aires, Argentina, eager to explore how mental health professionals can leverage technology and digital solutions to make mental healthcare more accessible, especially in low-and-middle income countries.
She completed her MPH in the Department of Social and Behavioral Sciences at the Harvard T.H. Chan School of Public Health, where she focused on race and gender disparities in health care and policy interventions that can mitigate health inequity. She has also conducted research related to trauma and Latinx migration, IT systems in mental health, and the mechanisms by which communication skills can be improved amongst health workers.
She comes to Harvard's Mental Health for All Lab motivated by a desire to scale up mental health interventions to the population level. This stems from her extensive clinical experience and an observation of a large gap in traditional interventions and their direct impacts on quality of life at both the individual and global health level.