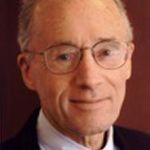 Howard H. Hiatt, MD
Professor of Medicine, Emeritus
Dr. Hiatt is a widely published author. His research articles have appeared in such publications as the Journal of Molecular Biology, Journal of Biological Chemistry, the New England Journal of Medicine, and the Journal of the American Medical Association. He has written for the lay press in areas of disease prevention, health services, and the health implications of the nuclear arms race. His book, Medical Lifeboat: Will There Be Room For You in the Health Care System?, Harper & Row, 1989, described ways to deal with some major problems of our health care system.
Dr. Hiatt attended Harvard College and received his MD from the Harvard Medical School in 1948. Trained in clinical medicine, biochemistry, and molecular biology, he has been on the Harvard University faculty since 1955. His early research focused on the application of molecular biology to medical problems, particularly cancer. He was a member of the team at the Pasteur Institute, Paris, that first identified and described messenger RNA, and he was among the first to demonstrate messenger RNA in mammalian cells.
From 1963 to 1972, Dr. Hiatt was the first Herrman L. Blumgart Professor of Medicine at Harvard Medical School and Physician-in-Chief at Beth Israel Deaconess Medical Center (BIDMC). During his tenure, BIDMC became among the first of the nation's teaching hospitals both to seek applications of molecular and cell biology to clinical medicine and to develop teaching and research programs in primary care. From 1972 to 1984, while he was Dean of the Harvard School of Public Health, the School strengthened and broadened greatly its work in the quantitative analytic sciences, introduced molecular and cell biology into its research and teaching, began its program in health policy and management — the first in a public health school — and promoted integration of its teaching and research programs with those in other Harvard Faculties.
Since 1985, Dr. Hiatt has been appointed as Professor of Medicine at Harvard Medical School and Senior Physician at Brigham and Women's Hospital. He helped develop the Research Training in Clinical Effectiveness Program, which trains physicians to carry out research on issues of quality and costs of medical care. His present research concerns social aspects of health. He helped launch and for the past ten years has been Associate Chief of the Division of Global Health Equity.
He is a member of the Association of American Physicians, the Institute of Medicine of the National Academy of Sciences, the American Academy of Arts and Sciences, the American Society for Clinical Investigation, the American Society for Biochemistry and Molecular Biology, the American Public Health Association, as well as several other organizations. He has served for several years on the boards of Physicians for Human Rights, the Institute for Health Care Improvement, Partners In Health, and the Gateway Institute for Pre-College Education Program.