Program for Global Palliative Care
Program Director: Eric Krakauer, MD, PhD
Program Background
Palliative care strives to prevent and relief of all types of suffering associated with serious illness – physical, psychological, social, and spiritual. It endeavors to improve the quality of life of both patients and caregivers throughout the course of serious illness. Accordingly, it should be provided along with disease-directed treatment, not only when disease treatment no longer is beneficial. It should be integrated into health care systems at all levels from referral hospitals to community health centers, and it should also be provided in the home. To achieve this, palliative care should be a standard responsibility not just of palliative care specialist doctors but also of specialists in oncology, hematology, geriatrics, pediatrics, as well as primary care clinicians, nurses, social workers, and community health workers. It should also be adapted to local clinical needs and cultural values.
Despite the World Health Organization (WHO) resolution that palliative care is "an ethical responsibility of health systems" and an essential part both of primary care and of specialist care for patients with serious illnesses, it is rarely accessible in low- and middle-income countries (LMICs). Per WHO estimates, 58 million people each year need palliative care, however, only 14 percent of patients who need palliative care receive it. There are numerous barriers that limit palliative care access in LMICs, including lack of policies requiring integration into health systems, lack of palliative care training and trainers, and socio-economic problems that severely limit accessibility of essential palliative care medicines—in particular, morphine.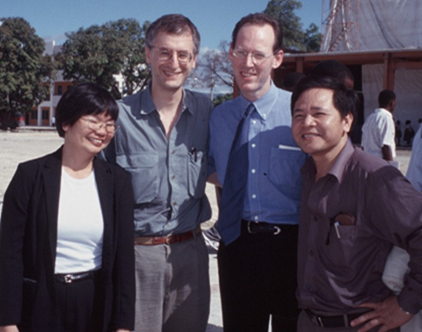 This Program takes its inspiration from Dr. Paul Farmer and his emphasis on accompanying the indigent sick throughout their illness course and attending not only to their diseases but also to their psycho-social wellbeing. It addresses the barriers through long-term collaboration with regional partners. Our goal is to advance palliative care globally through our partnerships and a commitment to palliative care education and training, research, advocacy, and policy development.
The Program strives to engage HMS scholars and students interested in learning about or fostering palliative care development in LMICs. Working with our own community and our global partners, we aim to break down the barriers that prevent access to palliative care by all who need it.