Program in Global Mental Health and Social Change
Program Director: Giuseppe Raviola, MD
Program Background
COVID-19, structural racism, health inequities, climate change, overlapping humanitarian crises and other concurrent health, economic and social crises are now intersecting as a set of epidemics to constitute an ongoing syndemic, profoundly impacting mental health. Syndemic preparedness for the post-COVID future requires that all organizations attend to these crises as a whole, and prioritize mental health, to enhance societal resilience and deepen mental health services within and outside of health systems, and across sectors. Global mental health delivery lessons are increasingly relevant and urgent to apply today for the post-COVID future. A social medicine approach is needed to inform our understanding of the current threats to global mental health.
The Program in Global Mental Health and Social Change serves as a conduit for implementation-based training and research in global mental health delivery, linked to expanding programmatic work at Partners In Health global sites, in response to crises including the 2010 Haiti earthquake, the 2014-16 Ebola response in West Africa, and COVID-19.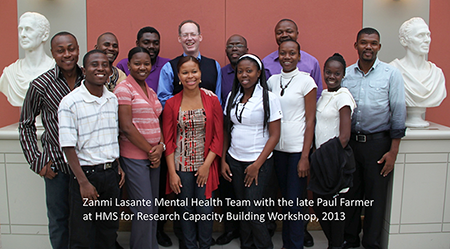 The Program seeks to bring together students, scholars, researchers, educators, and health care practitioners to address the global burden of mental disorders, and to develop best-practice models for global mental health delivery and implementation science. The Program seeks to draw together departmental expertise in the clinical, evaluative, and social sciences—including medical and psychological anthropology, social medicine, and history of medicine, as well as methodologies in quantitative and qualitative research—and seeks to build upon a generation of knowledge regarding service delivery and capacity-building in health services. By harnessing the resources, passion, and best practices of health care systems worldwide, the Program's faculty and trainees aim to place the care of patients with mental health disorders squarely within the dialogue on health and human rights, and to advance the discipline of global mental health delivery.
Mental health problems impose a serious and widespread health burden, yet remain a neglected and under-resourced domain of global health. Lack of access to safe and effective services remains a significant barrier to mental health care globally. Neuropsychiatric conditions, including depression, alcohol and drug dependence, bipolar disorder, schizophrenia, dementia, and anxiety disorders comprise approximately one-third of "years lost due to disability" (YLD) among people older than 14. Depression is the leading cause of disease burden in most regions of the world; by 2030 it is predicted to be the leading single cause of disease burden globally, particularly among women. With the onset of approximately half of all adult mental health disorders occurring before the age of 14, it is estimated that 20 percent of children aged 9 to 17 have a diagnosable mental health condition that impairs their ability to function. Mental disorders significantly compound physical illness, reducing life expectancy from communicable diseases such as HIV and tuberculosis, and promote the advance of other noncommunicable health problems such as heart disease and diabetes. Stigma related to mental disorders prevents those afflicted with mental illness from seeking access to mental health care, and ultimately compromises their human rights. Globalization and broader social phenomena such as migration and access to technology serve as key forces affecting biology, psychology, and health in contemporary society. Poverty compounds the factors that perpetuate mental disorders, and leaves those particularly vulnerable to illness, and lack of safe and effective treatments, without care and support.
These problems are evident at Partners In Health global sites, where people living with untreated mental disorders suffer from significant stigma, medical co-morbidity, and vulnerability to the effects of poverty. However, the work at Partners In Health sites has innovated community- and facility-based solutions to the global mental health treatment gap, and offers an essential platform for research and learning on best practices in global mental health delivery. Over the past decade, these global sites have demonstrated the feasibility of community-based programs linked to strengthening primary care systems that provide safe, evidence-based, culturally-adapted care in challenging and complex environments. Since 2016, PIH has delivered more than a quarter million mental health visits across 105 PIH-supported facilities, and has newly enrolled more than 62,000 people living with complex mental health conditions in settings with limited formal available services.
Innovative training fellowships housed within the Program, such as the Dr. Mario Pagenel Fellowship in Global Mental Health Delivery, have provided a unique career development pathway for early career psychiatrists who serve as Research Fellows in the Department, interested in the academic discipline of global mental health delivery. Eleven fellows to date have published twenty-nine papers in global mental health delivery. Mental health projects nested within the HMS MMSc-GHD have brought innovative mixed-methods research to build capacity at PIH global sites as well. Examples of such projects include the study of the lived experience of severe mental illness in rural Haiti, the study of the experience of caregivers of people living with mental illness in rural Malawi, and the articulation of social factors that determine interpersonal violence in households in Chiapas, Mexico. The program partners directly with the University of Global Health Equity in Rwanda, supporting the development of new training programs in Psychiatry that integrate a social medicine approach and a novel executive education and leadership program in global mental health delivery in the African context.
The Program in Global Mental Health and Social Change is one recent departmental initiative of a number, focused on mental health, reflecting the impactful history of engagements on Mental Health in the Department of Global Health and Social Medicine at Harvard Medical School. 
The Program functions as part of a broader collaborative of initiatives in global mental health at Harvard University, including GlobalMentalHealth@Harvard. 
The Mental Health For All Lab in the Department of Global Health and Social Medicine, co-led by Professor Vikram Patel, MBBS, PhD, and John Naslund, PhD, promotes the generation of knowledge and its effective utilization with the goal of contributing to the reduction of the global burden of suffering of mental health problems. The specific emphasis of the Lab's efforts is to leverage digital technology and task-sharing to scale up interventions for the prevention and care of mental health problems across the life course.
These programs follow a longstanding departmental tradition of programs of mental health research, training, and advocacy, through which the department has provided leadership in the fields of social and cultural psychiatry, psychiatric anthropology, and global mental health research and practice.