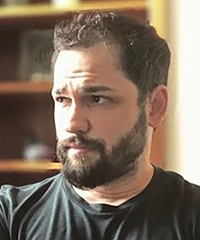 Co-Director, Master of Science in Media, Medicine, and Health
Lecturer on Global Health and Social Medicine
Jason Silverstein, PhD, is a lecturer and founding co-director of the Master of Science in Media, Medicine, and Health Program, working alongside Dr. Neal Baer. As well, Dr. Silverstein serves as the Department's inaugural writer-in-residence, selected by Dr. Paul Farmer.
Dr. Silverstein has written more than one hundred reported pieces and commentaries. His work has investigated how racial residential segregation becomes embodied as illness and disease, structural violence and the war on drugs, and the politics of health care in the United States. His work has appeared in VICE, GQ, The Atlantic, Esquire, The New Republic, The New York Times, Men's Health, The Guardian, Slate, and The Nation, and his work has been featured by MSNBC, NPR, HuffPost Live, BET, and Big Think, among others. 
Dr. Silverstein holds a master's and Ph.D. in Anthropology from Harvard, where he completed an ethnography of pediatric palliative care under the direction of Dr. Arthur Kleinman and Dr. Paul Farmer. He also holds a master's in Religion, Ethics, and Politics from Harvard Divinity School, and a B.A. in Philosophy from Pennsylvania State University. 
Dr. Silverstein is an award-winning teacher who believes in teaching as a form of caregiving. He has won five Certificates of Distinction in Teaching from the Derek Bok Center for Teaching and Learning at Harvard College. He has supervised undergraduate and graduate students at Harvard College, the Harvard School of Public Health, and Harvard Medical School.
Follow him on www.twitter.com/jason_reads.
Mail: 
Harvard Medical School
Global Health and Social Medicine
641 Huntington Avenue
Boston, MA 02115