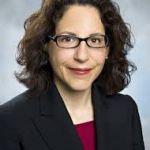 Rebecca Lynn Weintraub, M.D.
Assistant Professor of Global Health and Social Medicine
Assistant Professor of Medicine
2017—
Collaborating with Ariadne Labs on Better Evidence to catalyze the integration of evidence based clinical resources at the frontline of care delivery.
Rebecca is an assistant professor in the Department of Global Health and Social Medicine at Harvard Medical School and an associate physician in the Division of Global Health Equity at Brigham and Women's Hospital. Rebecca is a practicing internist at Brigham and Women's Hospital.
She has led the research and development of the award-winning Cases in Global Health Delivery, a collection of 40 Harvard Business School case studies with Harvard Business Publishing, available online at no cost to the public and taught at over 500 schools of medicine, public health, and business. Since 2008, Rebecca has led GHDonline.org. Her research on value based health care delivery has been funded by the Agency for Healthcare Research and Quality, the Global Fund, World Health Organization, the Commonwealth Fund, and the Bill & Melinda Gates Foundation.
Rebecca co-founded Jumpstart, the national AmeriCorps program reaching more than 50,000 preschoolers and their communities. She is currently an advisor to the Draper Richards Kaplan Foundation investing in health entrepreneurs and is a member of the New England Journal of Medicine's Perspectives Advisory Board. Rebecca is an associate faculty member at Ariadne Labs. In 2014, the World Economic Forum honored Rebecca as a Young Global Leader and currently is a Health Innovators Fellow at the Aspen Institute. Rebecca graduated from Yale University, Stanford School of Medicine, and completed her medical training at Brigham and Women's Hospital.
Better evidence: prospective cohort study assessing the utility of an evidence-based clinical resource at the University of Rwanda.
Authors: Authors: Valtis YK, Rosenberg JD, Wachter K, Kisenge R, Mashili F, Chande Mallya R, Walker TD, Kabakambira JD, Egide A, Ntacyabukura B, Weintraub R.
BMJ Open
View full abstract on Pubmed
When government agencies turn to unregulated drug sources: Implications for the drug supply chain and public health are grave.
Working as an ASHA to Improve Maternal and Child Health in Uttar Pradesh, India
Authors: Authors: Rosenberg J, Donovan C, Madore A, Weintraub R
Harvard Business Publishing

Maternal and Child Health in Uttar Pradesh, India: A Mother's Story
Authors: Authors: Donovan C, Rosenberg J, Madore A, Weintraub R
Harvard Business Publishing