Global Health Delivery Intensive
Applications are now open for Summer 2019 Classes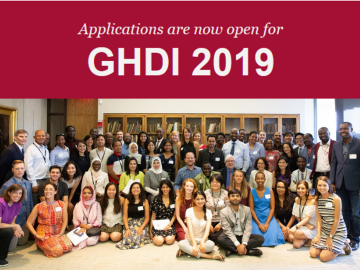 Applications are now open—please visit the GHDI
Global Health Delivery Intensive (GHDI) is a non-degree program offered during the first summer session at Harvard T.H. Chan School of Public Health in Boston, Massachusetts from July 8-26, 2019. GHDI is a rigorous summer program that trains public health leaders and health practitioners through a curriculum of epidemiology, management science and global health delivery case studies, enabling them to effectively design and manage programs that improve health outcomes for the populations they serve.
The priority application deadline is January 15, 2019 and the final deadline is February 1, 2019. We encourage early application.
To learn more about the program through alumni stories and view the answers to Frequently Asked Questions.
Please contact the Global Health Delivery Office to inquiry about the course deadlines and content.
To learn about possible tuition funding sources, please contact the Harvard Medical School Center for Global Health Delivery–Dubai office by email.