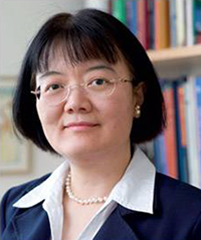 Chunling Lu, PhD
Associate Professor of Medicine
Associate Professor of Global Health and Social Medicine
Dr. Lu studied international relations (BA) and political science (MA) at Fudan University in Shanghai, China, and sociology (MA) and applied statistics (MS) at Syracuse University, where she also received her PhD in economics. She received postdoctoral training on health care policy analysis at the Harvard Medical School's Department of Health Care Policy, and joined the School's Department of Global Health and Social Medicine in 2008 after three-years work at the Harvard Institute for Global Health as Senior Research Associate.
Affliates
Division of Global Health Equity, Brigham and Women's Hospital
Harvard Center for Population and Development Studies
Institute for Quantitative Social Science, Harvard University
Dr. Lu's research centers around three foci: (1) tracking and analyzing resources invested in global health and evaluating their effectiveness for improving health care coverage and health outcomes among the vulnerable populations; (2) conducting economic evaluation on policy or medical interventions that aim at reducing health inequality and achieving universal health coverage; and (3) assessing inequalities in early childhood development and adolescent health and development. Currently, Dr. Lu is leading economic analysis on community interventions for maternal and child health in Ethiopia and mental health in India. She is also leading a global assessment of young children exposed to risk factors of poor development as well as global investments in young children' development.