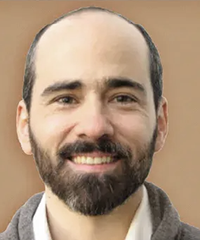 Daniel Palazuelos, MD
Assistant Professor of Medicine, Part-time
Daniel Palazuelos, MD, MPH, is an Associate Physician in the Department of Medicine, Assistant Director of the Hiatt Global Health Equity Residency in the Division of Global Health Equity, and a Clinician-Educator Hospitalist at Brigham and Women's Hospital. Dr. Palazuelos also serves as the Cannon Society Global Health Teaching Fellow at Harvard Medical School, as the Senior Health and Policy Advisor for Community Health Systems at Partners In Health, and as the Co-founder/Chief Strategist of Compañeros En Salud - México (PIH-Mexico).
Early in his career, Dr. Palazuelos focused on grassroots community health efforts in the Sierra Madre Mountains of Chiapas, México. The lessons learned during this time helped Dr. Palazuelos and his team co-found Compañeros En Salud, the Partners In Health sister-project in Mexico, a healthcare system strengthening organization that works with the Mexican government to deliver high-quality medical care to the rural poor and train the next generation of "change agents."
Dr. Palazuelos has also collaborated with the UN Special Envoy Office for Health Financing to write a report outlining the case for investment in community health workers. This led to the establishment of the Financing Alliance for Health, an international organization that partners with Ministries of Health in impoverished countries to build, find funding for, and sustain ambitious national community health programs.
In addition to this implementation work, he has held various roles in global health education, including: training and mentoring Mexican clinicians during their social service year working with PIH-Mexico; serving as the global health teaching fellow for the Cannon Society at Harvard Medical School; and serving as the Assistant Director for the Hiatt Global Health Equity Residency where he helps to train resident-physicians looking to launch a career in global health. Dr. Palazuelos aims to train global health clinicians to understand the perspectives of those they serve, and to design exemplary health systems that are aligned with the real needs of people living in the poorest and most difficult circumstances.
Daniel Palazuelos, MD, MPH, is an affiliate of the Department of Global Health and Social Medicine Program in Global Primary Care and Social Change and a tutor in the required HMS I course, Introduction to Social Medicine and Global Health. Dr. Palazuelos is a global health implementor-educator who holds positions at Harvard Medical School, the Brigham and Women's Hospital (BWH), and Partners In Health (PIH). These include: clinical work as an attending on the BWH wards for 10 weeks a year with the hospitalist service; management support for, and mentorship of, the Global Health Equity (GHE) residents at the BWH; clinical and research mentorship in the PIH projects in Mexico and Guatemala; accompaniment of community health worker (CHW) projects across all PIH sites through a quality improvement (QI) task force that hosts summits, authors papers, represents PIH at national and international meetings, and awards internal QI micro-grants. For years, he worked to create the strategy for, and successfully launch, the new health care system strengthening PIH project in Mexico, Compañeros en Salud-Mexico. It is envisioned not only as a service provider for local people in the Sierra Madre Mountains of Chiapas, but also as a platform for both U.S. and Mexican medical trainees to learn about global health and to conduct implementation research. In addition to an emphasis on extensive preparation and on-site mentorship, this program offers collaborators the capacity to support intensive and logistically complex research efforts. Noteworthy examples include: a stepped-wedge unidirectional crossover study of the effectiveness of CHW accompaniment on diabetes and hypertension treatment adherence and clinical outcomes, and a user perception study of how a multifaceted educational intervention has affected local staff career choices.