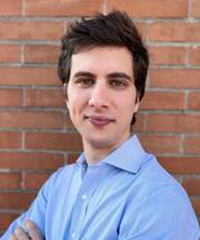 Marie-Skłodowska Curie Fellow Mental Health for All Lab
Davide Papola is a psychiatrist with a PhD in Psychiatric Sciences. He is based at the University of Verona (Verona, Italy) and works in the research group of Professor Corrado Barbui. Since 2016, he has been actively involved in Global Mental Health (GMH) as a member of the Cochrane Global Mental Health Network established in 2017 by Cochrane and based at the World Health Organization Collaborating Centre for Research and Training in Mental Health and Service Evaluation, section of psychiatry (University of Verona), where he currently works. His expertise lies in the design and creation of systematic reviews, oriented to summarize clinical trial findings using meta-analytic techniques, and the production of evidence based clinical guidelines, covering the pathway from knowledge production to its uptake in clinical practice. In 2017, during his psychiatry residency program, he spent 6 months at McMaster University (Hamilton, Ontario, Canada) supervised by Professor Gordon Guyatt to acquire knowledge in research methodology and the GRADE method in particular. In 2019, while a PhD student, he was a research fellow at the Vrije Universiteit (Amsterdam, the Netherlands) under the supervision of Professor Pim Cuijpers with whom he started a prolific collaboration on psychotherapy research. Currently he is working as a developer for the 2023 update of the Essential Medicine List for mental health in coordination with Dr. Mark van Ommeren, head of the Mental Health Section of the WHO Department of Mental Health and Substance Abuse (Geneva, Switzerland).
Thanks to the "Marie-Skłodowska Curie fellowiship", he will work under the supervision of Professor Vikram Patel and Professor Corrado Barbui on his project proposal "RE-SHIFT" (Dismantling, REdialing, personalizing, and implementing task SHIFTing psychosocial interventions to treat and prevent common mental disorders in low-resource settings). RE-SHIFT focuses on preventing and treating common mental disorders in people living in low-resource settings. It aims at dismantling psychosocial interventions delivered by non-specialist providers into their components, evaluating each component efficacy, and redialling the most effective components to identify a potential novel task shifting psychosocial intervention. Starting from the analysis of individual participant data from the randomized controlled trials conducted in the field of GMH available on the matter, RE-SHIFT will pioneer a sophisticated study design to unravel which components work best and for whom, identifying at the same time how participant, provider and delivery characteristics moderate the outcome and how beneficial effects of the psychosocial task shifting interventions are mediated. With this information it will be possible to tailor interventions according to the specific needs of diverse populations, allowing the "RE-SHIFTing" of available resources to the best of their use.  His work so far has laid the methodological foundation for the present project, which, from a content perspective, is the logical extension of the work he conducted as a PhD student in GMH.