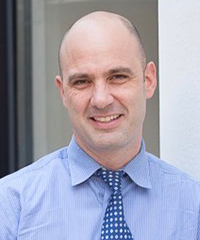 Giuseppe James Raviola, MD, MPH
Director, Program in Global Mental Health and Social Medicine
Assistant Professor of Psychiatry, Massachusetts General Hospital
Associate Director, The Chester M. Pierce, MD Global Psychiatry Division
Director, Mental Health, Partners In Health
Giuseppe Raviola MD MPH serves as the Director of the Program in Global Mental Health and Social Change (PGMHSC) at Harvard Medical School, Associate Director of the Chester M. Pierce, MD Division of Global Psychiatry at Massachusetts General Hospital (MGH), and Director of Mental Health for Partners In Health (PIH). He is an Assistant Professor of Psychiatry, and of Global Health and Social Medicine at HMS. He is an Adjunct Assistant Professor in the Department of Clinical Medicine at the University of Global Health Equity, Rwanda, and Academic Consultant, University of Sierra Leone Teaching Hospitals Complex, Freetown, Sierra Leone.
Dr. Raviola received an undergraduate degree from Dartmouth College (History, 1994), a medical degree from Harvard Medical School (2002), and a public health degree from the Harvard T.H Chan School of Public Health (Clinical Effectiveness, 2012). He completed his postgraduate training in psychiatry at MGH-McLean Hospital (2006), and in child and adolescent psychiatry at Dartmouth-Hitchcock Medical Center (2008). From 2008-10 he served as an inpatient psychiatrist at Boston Children's Hospital, and from 2010-2016 he established and led the Psychiatry Quality Program at Boston Children's Hospital.
He is a recipient of the: 2009 2010 Excellence in Tutoring Award, Harvard Medical School Academy for Learning and Teaching; 2009 Monte and Rita Goldman Teaching Award, Boston Children's Hospital; 2011 Jonathan F. Borus Outstanding Early Career Educator Award in Medical Student Education in Psychiatry, Harvard Medical School; 2015 Member, American College of Psychiatrists; 2018 Burke Fellowship, Harvard Global Health Institute; 2020 Membership, Group for the Advancement of Psychiatry; 2021 Bruno Lima Award in Disaster Psychiatry, American Psychiatric Association; 2021 Outstanding Psychiatrist Award for the Advancement of the Profession, Massachusetts Medical Society; 2022 Distinguished Fellow of the American Psychiatric Association.
Mental health has historically remained outside of the field of global health, whether related to humanitarian crisis response, epidemics, or to the development of systems of care inclusive of mental health.  Dr. Raviola's work sits squarely at the intersection of Psychiatry, Global Health, and Social Medicine, to promote the development of innovative models of delivery of mental healthcare to people living in the economically poorest communities in the world, and to show evidence for these advances. He has led research and academic scholarship to evaluate the impact of the services developed by the service delivery teams he has assembled or supported over the past decade. This includes implementation science research focused on demonstrating the effectiveness of the public sector-embedded, integrated care delivery models that the teams he supports are evolving on a continuous basis. He has led efforts to develop novel clinical evaluation and measurement systems, novel electronic medical record systems, and novel quality improvement systems, with use of targeted qualitative and quantitative methods. This includes processes to develop and document a systematized understanding of the essential steps in developing an evidence-based, locally relevant model of care through a service delivery planning matrix and value chain for global mental health.
Dr. Raviola's scholarship reflects the application of accumulated research evidence on functional practices within the public sector, effective primary care-based mental health care delivery, the use of participatory and community-based approaches to evaluate services, and the use of data within routine clinical management consistent with highly effective performance improvement. His work has contributed to shifts in government policies in a number of counties, related to mental health as part of integrated, sustained, government-run health care programming, and informing the implementation and scaling up of services.
Dr. Raviola has applied his clinical, consultation, and systems expertise to create substantial, measurable, innovative global mental health delivery models that are unique in the world for their capacity to address complex, co-morbid mental health conditions in low-resource settings, as well as for their global scope. He has responded to humanitarian crises as opportunities to strengthen health systems following catastrophic events by building integrated models of care for complex mental health conditions, demonstrating the feasibility of task-shared, locally adapted services that are collaborative, comprehensive, and community-based, for the long-term, in "real-world" settings. This work has often been produced de novo, requiring the establishment of basic human resource and management capacity. He has also advanced evidence that safe, effective, quality care for debilitating, severe, and common mental disorders can be delivered at the front lines of global health delivery, within already burdened public health systems.
Dr. Raviola has also led the implementation of mental health delivery across twelve countries as Director of Mental Health at Partners In Health (PIH), an international health care delivery organization linked to Harvard Medical School (HMS) through the Department of Global Health and Social Medicine (DGHSM). Since 2016, PIH has delivered more than a quarter million mental health visits across 105 PIH-supported facilities, and has newly enrolled more than 62,000 people living with complex mental health conditions in settings with limited formal available services. Through the HIV/AIDS crisis, in post-genocide Rwanda, in Haiti following the 2010 earthquake, in Liberia and Sierra Leone following the 2014-16 Ebola outbreak and where they reformed the oldest psychiatric asylum in sub-Saharan Africa and co-led the accreditation of a new residency in Psychiatry, as well as across global sites and in the Commonwealth of Massachusetts during the 2020-22 COVID-19 pandemic, he has supported and catalyzed comprehensive health system strengthening that is inclusive of mental health. In the post-COVID era, this experience in community-based, task-shared mental health care delivery in a variety of settings carries the possibility of effective translation to high-income settings such as the US, where mental health services remain fragmented, inequitable, and difficult to access.
Selected Recent Research
Advancing Community-Driven Mental Health in Massachusetts, Blue-Cross Blue-Shield Foundation, 2023
Many Voices Collaborative in Community-Based Mental Health Care for Common Mental Disorders at Partners In Health, 2018-24
Grand Challenges Canada, The Partners In Health Mental Health Learning Collaborative: Capacity-building for mental health care delivery and implementation across global sites, focusing on Peru, Lesotho, Liberia, and Mexico, 2020-22
Burke Global Health Fellowship, Harvard Global Health Institute, Assessment of the Feasibility of a Novel Care Service Delivery Planning Matrix to Achieve Universal Mental Health Coverage in Low-Resource Settings, 2018-19 
Grand Challenges Canada, Promoting a Novel Community-Based Mental Health Model in Rural Haiti, and Building a National Scale-up Plan (Zanmi Lasante and Partners In Health), 2015-16 
Grand Challenges Canada, Integrating mental health into primary care: expanding a community-based mentorship and enhanced supervision (MESH) model to address severe mental disorders in Rwanda (Inshuti Mu Buzima and Partners In Health), 2014-16
Grand Challenges Canada, Expansion of a new implementation model to address severe mental disorders in rural Haiti, to inform the development of a national decentralized mental health plan following the 2010 Haiti earthquake (Zanmi Lasante and Partners In Health), 2012-15
Innovation in Global Mental Health Delivery

Development of scalable programs for community mental health care across Partners In Health sites in collaboration with local Ministry of Health colleagues in:

Commonwealth of Massachusetts, USA—Advancing Community-Driven Mental Health
Haiti (Zanmi Lasante) — Central Plateau and Artibonite departments;
Kazakhstan — Almaty and other districts;
Lesotho (Bo-mphato Litsebeletsong Tsa Bophelo) — Maseru, Mohale's Hoek and other districts;
Liberia — Maryland county, J.J. Dossen Hospital and Pleebo Health Center
Malawi (Abwenzi Pa Za Umoyo) — Neno district;
Mexico (Compañeros En Salud) — Jaltenango, and clinics in Chiapas state;
Navajo Nation, United States (COPE-Community Outreach and Patient Empowerment) — Arizona, New Mexico and Utah;
Peru (Socios En Salud) — Carabayllo, Lima;
Rwanda (Inshuti Mu Buzima) — Burera, Kayonza and Kirehe districts and district hospitals; and
Sierra Leone—Koidu Government Hospital, Wellbody Clinic and the Sierra Leone Psychiatric Teaching Hospital at Kissy, Freetown

Partners In Health Mental Health Program

Innovation in Training and Education

The Dr. Mario Pagenel Fellowship in Global Mental Health Delivery, PIH/HMS Fellowship Director
Global Mental Health Delivery: From Research to Practice, T.H. Chan School of Public Health/HMS (GHP 208/SM 518.0), Course Co-Director
Mental Health Champions: An Executive Leadership Program for Mental Health, T.H. Chan School of Public Health, Program Co-Director:
History 1924: Legacies of Violence and Healing: Mental Health and Illness in Colonial and Independent Africa, Harvard University Faculty of Arts and Sciences
Assistant Professor, University of Global Health Equity, Rwanda; Co-lead, Clinical Clerkship and Residency in Psychiatry (2025), University of Global Health Equity
Academic Consultant, University of Sierra Leone Teaching Hospitals Complex, Freetown, Sierra Leone; Co-lead, Residency in Psychiatry (2022), Sierra Leone Psychiatric Teaching Hospital

Innovation in Partnership in Global Health