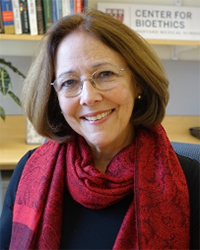 Martha Montello, PhD
Lecturer on Global Health and Social Medicine
Dr. Montello is assistant professor in the history and philosophy of medicine at the University of Kansas School of Medicine. She teaches narrative methods in clinical ethics and mentors Harvard trainees and students on narrative methods, medical humanities, and literature and medicine. She participates in the Division of Medical Ethics and in the Brigham and Women's Hospital Residency Program in Primary Care and Population Health.
The ethics of reality medical television.
Reading experience: Jodi Halpern's From Detached Concern to Empathy.