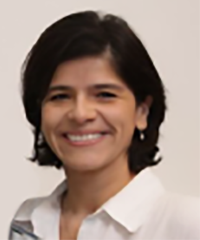 Mercedes Becerra, ScD
Jeffrey Cheah Professor of Global Health and Social Medicine
Mercedes C. Becerra, ScD, is the Jeffrey Cheah Professor of Global Health and Social Medicine at Harvard Medical School. She is also the Faculty Dean of Adams House at Harvard College.  Professor Becerra completed the AB degree at Harvard College in 1991 (History), followed by the MSc (Population and International Health) in 1993 and the DSc (Epidemiology) in 1999, both at the Harvard School of Public Health. 
For more than 25 years, Professor Becerra has conducted research focused on improving the treatment of drug-resistant tuberculosis (TB), strategies to estimate and detect TB in children, and strategies to treat and prevent TB in families exposed at home to this airborne infection. She sustains long-term collaborative partnerships with three international health delivery organizations: Partners In Health, IRD Global, and Advance Access & Delivery. Professor Becerra is co-founder of the Sentinel Project on Pediatric Drug-Resistant Tuberculosis— a network of clinicians, investigators, and advocates who collaborate to share evidence and resources that can increase children's access to prompt and effective treatment.  Professor Becerra is also a co-founder of the Zero TB Initiative— a global consortium of local coalitions working to drive down TB rates, one community at a time.
Dr. Becerra's research focuses on the treatment and epidemiology of tuberculosis. She studies the burden of tuberculosis in the child and adult household contacts of tuberculosis patients. She also studies strategies to improve tuberculosis screening and treatment in children and high-risk households.