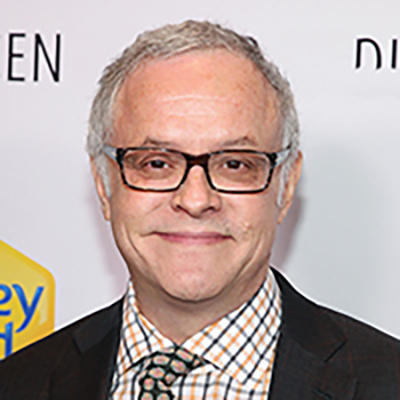 Neal Baer, MD
Co-Director, Master of Science in Media, Medicine, and Health
Co-Director, Media and Medicine Certificate of Completion Program
Lecturer on Global Health and Social Medicine
Executive Producer and Showrunner, Designated Survivor, NetflixMedia Program Co-Director
Neal Baer, M.D. is an award-winning showrunner, television writer/producer, physician, author and a public health advocate and expert.
Dr. Baer currently serves as Executive Producer and Showrunner of the third season of Designated Survivor, starring Kiefer Sutherland and coming back to audiences globally on Netflix in the summer 2019. He was most recently an Executive Producer and Showrunner for the hit CBS television series Under The Dome.  Previously, he was Executive Producer of the CBS medical drama A Gifted Man, as well as the Executive Producer of the hit NBC television seriesLaw & Order: Special Victims Unit from 2000-2011, where he oversaw all aspects of producing and writing the show, with a budget of $100 million.  During his tenure, among the awards the series won include the Shine Award, People's Choice Award, the Prism Award, Edgar Award, Sentinel for Health Award and the Media Access Award.  Actors on the show have won six Emmys and the Golden Globe.  The series regularly appeared among the top ten television dramas in national ratings.
Prior to his work on SVU, Dr. Baer was Executive Producer of the NBC series ER.  A member of the show's original staff and a writer and producer on the series for seven seasons, he was nominated for five Emmys as a producer.  He also received Emmy nominations for Outstanding Writing in A Drama Series for the episodes "Hell and High Water" and "Whose Appy Now?"  For the latter, he also received a Writers' Guild of America nomination. 
Dr. Baer's other work includes "Warriors," an episode of China Beach, nominated for a Writers' Guild Award for best episodic drama, and the ABC Afterschool Special "Private Affairs," which he directed and wrote.  The Association of Women in Film and Television selected the program, dealing with sexually transmitted diseases, as the Best Children's Drama of the Year.  He wrote "The Doctor Corps," a feature film for Twentieth Century Fox; "Outreach," a pilot for the WB Network, which he also produced; "The Edge," a pilot for CBS; and "The Beast," a pilot for NBC, which was redeveloped in 2017 by Twentieth Century Fox Television.  Dr. Baer's first novel, Kill Switch, co-written with Jonathan Greene, was published in January 2012, and his second novel, Kill Again, also with Jonathan Greene, was published in 2015.
Dr. Baer graduated from Harvard Medical School and completed his internship in Pediatrics at Children's Hospital, Los Angeles.  He received the Jerry L. Pettis Memorial Scholarship from the American Medical Association as the most outstanding medical student who has contributed to promoting a better understanding of medicine in the media.  The American Association for the Advancement of Science selected him as a Mass Media Fellow. 
Dr. Baer's primary medical interests are in adolescent and global health.  He has written extensively for teens on health issues for Scholastic Magazine, covering such topics as teen pregnancy, AIDS, drug and alcohol abuse, and nutrition.  Dr. Baer taught elementary school in Colorado and also worked as a research associate at USC Medical School, where he focused on drug and alcohol abuse prevention.  Recently, Dr. Baer co-established the Institute for Photographic Empowerment at USC's Annenberg School of Communications, which links photographic story-telling projects around the world and makes that work available to NGOs and policymakers.  He has worked in South Africa and Mozambique since 2006, teaching photography to mothers with HIV and to AIDS orphans so that they can tell the world their own stories.  Dr. Baer also produced the documentary short, "Home Is Where You Find It," directed by Alcides Soares, a seventeen-year-old Mozambican AIDS orphan, which chronicles one young man's search to find a family after his parents have died of AIDS.  The film has screened internationally at sixty festivals and has won four awards for best documentary.
Dr. Baer is an Adjunct Professor of Community Health at the UCLA Fielding School of Public Health, where he also currently leads a Freshman Seminar on Soda Politics. He is also a Lecturer in Global Health and Social Medicine at Harvard Medical School.  Previously, he was a Clinical Professor of Preventive Medicine at the Keck School of Medicine at the University of Southern California.  He established The Global Media Center for Social Impact at ULCA's Fielding School of Public Health, where he is working on projects using new media to promote global health.  Dr. Baer is also a Senior Fellow at USC's Annenberg School of Journalism.
Dr. Baer graduated magna cum laude with a B.A. in Political Science from Colorado College.  He holds masters' degrees from Harvard Graduate School of Education and from Harvard Graduate School of Arts and Sciences in Sociology.  Before working in television, he spent a year at the American Film Institute as a directing fellow.  In 2000, he received an honorary Doctor of Laws degree from Colorado College. This past May, he gave the 2018 Harvard Medical School commencement speech, entitled "What Matters?"
Dr. Baer has served on the boards of many organizations related to health care, including the Venice Family Clinic (the largest free clinic in the U.S.; 2000-2010) and RAND Health (2000-2011).  He was a trustee of the Writers Guild of America Health and Pension Fund (2000-2012), was a trustee of the American Film Institute, and has served as a trustee of Colorado College since 2006.  He also served as an elected member to Harvard University's alumni board (2006-2011) and was Co-Chair of the CDC and Gates Foundation-supported, Hollywood, Health and Society.  Dr. Baer serves on the Board of Fellows at Harvard Medical School.  He also recently joined the board of the One Archives and is a member of the editorial board of Perspectives in Biology Medicine.  
Dr. Baer received the Valentine Davies Award in 2004 from the Writers Guild of America for "public service efforts in both the entertainment industry and the community at large, bringing dignity to and raising the standard for writers everywhere."  He has received the Special Individual Achievement Award from the Media Project; the Leadership Award from NOFAS; the Loop Award from Lupus LA for educating the public about lupus and autoimmune diseases; the Socially Responsible Medicine Award from Physicians for Social Responsibility for "accomplishment in crafting compelling health messages;" and the Feminist Majority Foundation for promoting global woman's rights on television.  In 2012, he received the John P. McGovern Medal from The American Medical Writers Association.  Since then, he has received the Point Foundation Honors Leadership Award, the American Pediatric Association George Armstrong Lecturer Award and the TV & Cable Christopher Award for the documentary, If You Build It. He has also received an Honorable Mention for the Hilton-Sundance LightStay Sustainability Award, and has been honored by the Children's Hospital Champion Fund, Denver City Year Red Jacket Society, The Creative Coalition's Television Industry Advocacy Awards and Cynopsis Social Good Awards.
Dr. Baer currently lives in Brentwood, Los Angeles.