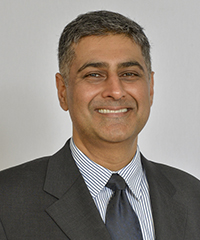 Salmaan A. Keshavjee, MD, PhD, ScM
Professor of Global Health and Social Medicine in the Field of Medical Anthropology
Salmaan Keshavjee, MD, PhD, ScM, is the Director of Harvard Medical School's Center for Global Health Delivery and Professor of Global Health and Social Medicine in the Department of Global Health and Social Medicine (DGHSM) at Harvard Medical School. He is also Associate Professor of Medicine in the Division of Global Health Equity at Brigham and Women's Hospital.
Dr. Keshavjee has been leading the Harvard Medical School Center for Global Health Delivery since 2014. Under his direction, the Center addresses some of the most pressing global health challenges by focusing on research, medical education and training that promises to improve healthcare delivery systems and patient outcomes for diseases prevalent in the United Arab Emirates, Middle East, North Africa and neighboring regions. The Center also provides opportunities for faculty and students to pursue research related to the delivery of existing or new interventions that can cure or prevent disease, specifically in the following priority areas: diabetes and obesity, infectious disease, mental health, and surgery.
With advanced training in both medicine and anthropology, Dr. Keshavjee is a leading expert in drug-resistant tuberculosis treatment and the anthropology of health policy. He is the author ofBlind Spot: How neoliberalism infiltrated global health­.  He has worked extensively with the Boston-based non-profit Partners In Health (PIH) on the treatment of drug-resistant tuberculosis.  Over the last 16 years, Dr. Keshavjee has conducted clinical and implementation research in Russia (2000-present).  He was also the Deputy-Director for the Partners In Health's Lesotho Initiative (2006-2008), launching one of the first community-based treatment programs for multi-drug resistant tuberculosis/HIV co-infection in sub-Saharan Africa. His research has resulted in a number of clinical and policy manuscripts on TB and MDR-TB, which have had significant clinical and policy impact.   
Dr. Keshavjee has been very involved in global policy discussions around the treatment of drug-resistant tuberculosis.  In 2005, he became a member of the World Health Organization/Stop TB Partnership's Green Light Committee for MDR-TB Treatment.  From 2007 to 2010, he was the committee's chair.  He has spent considerable time working on alternate mechanisms for drug procurement, technical assistance delivery, and program implementation.  In addition to acting as a consultant to a number of projects globally, Dr. Keshavjee was the co-author of a U.S. Institute of Medicine white paper on overcoming barriers to expanding treatment for MDR-TB. 
Dr. Keshavjee is leading an initiative at Harvard Medical School on how to achieve zero deaths from tuberculosis, and has been working with global partners to build the Zero TB Cities Initiative.   
 
Address: 
641 Huntington Avenue
Boston, MA 02115