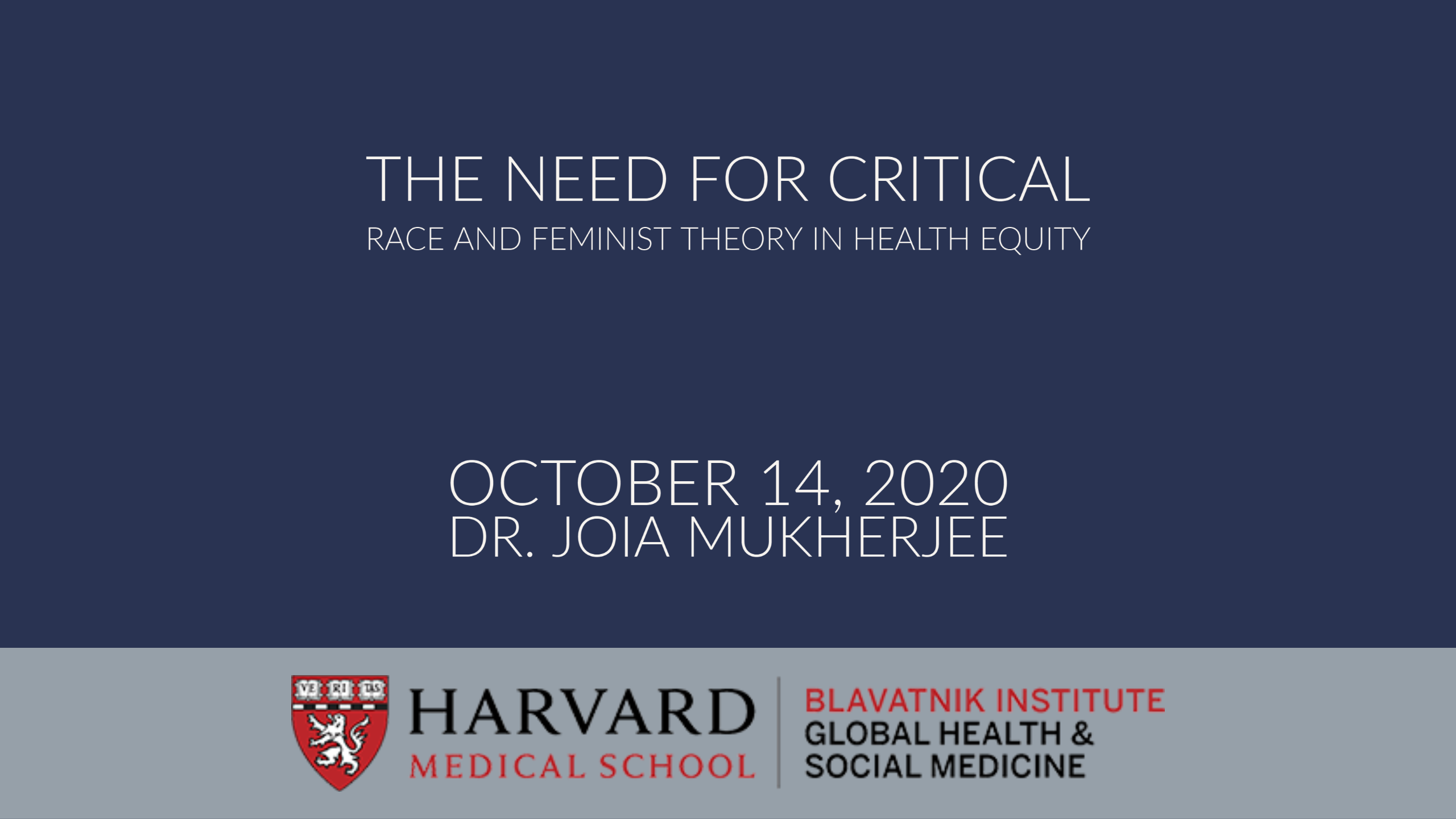 Speaker
Joia S. Mukherjee is associate professor of medicine in the Division of Global Health Equity, Department of Medicine, Brigham and Women's Hospital, and associate professor of global health and social medicine at Harvard Medical School. In the Department of Global Health and Social Medicine, she directs the Master of Medical Sciences in Global Health Delivery program and the Program in Global Medical Education and Social Change. She teaches infectious disease, global health delivery and human rights to health professionals and students from around the world. Dr. Mukherjee has helped to create new residency and fellowship training programs for Rwandan and Haitian physicians as well as global health residencies and fellowships for US trainees at Harvard and other American universities.
Dr. Mukherjee's scholarly work focuses on the provision of health as a human right and on the design, implementation, and evaluation of comprehensive health care in resource-poor settings.
Dr. Mukherjee is a graduate of the University of Minnesota Medical School, trained in infectious disease, internal medicine, and pediatrics at the Massachusetts General Hospital, and has an MPH from the Harvard School of Public Health. Since 2000, Dr. Mukherjee has served as the chief medical officer of Partners In Health, a nonprofit medical organization focused on reducing global health disparities by strengthening health systems through public sector support and community-based programs. She provides strategic guidance on the implementation of clinical programs at PIH's sites in Haiti, Rwanda, Malawi, Lesotho, Peru, Mexico, Russia, Sierra Leone, and Liberia and has served as an expert consultant for the World Health Organization and Ministries of Health on of HIV, TB, health systems strengthening and health work force development.
Dr. Mukherjee also serves on the board of directors for Village Health Works (Burundi) and Muso (Mali) and the Institute for Justice and Democracy in Haiti. She advises various grassroots organizations throughout the developing world in their work to deliver health care with a human rights based approach to the poorest of the poor.
Discussant
Michelle Morse is Founding Co-Director of EqualHealth and Assistant Program Director for the Internal Medicine Residency at Brigham and Women's Hospital.  Dr. Morse co-founded EqualHealth (www.equalhealth.org), an organization that aims to inspire and support the development of Haiti's next generation of healthcare leaders through transforming medical and nursing education and creating opportunities for Haitian health professionals to thrive. She works to strengthen medical education globally, expand the teaching of social medicine in the US and abroad, and to support health systems strengthening through EqualHealth.  In 2015 Dr. Morse worked with several partners to found the Social Medicine Consortium, a global coalition of over 700 people representing over 50 universities and organizations in twelve countries, which seeks to use activism and disruptive pedagogy rooted in the practice and teaching of social medicine to address the miseducation of health professionals on the root causes of illness.  In 2018, Dr. Morse was named as a Soros Equality Fellow and will be working on a global Campaign Against Racism during the fellowship.
Dr. Morse is an internal medicine hospitalist at Brigham and Women's Hospital (BWH) through the Division of Global Health Equity, an instructor on the faculty at Harvard Medical School, and an affiliate of the Department of Global Health and Social Medicine.  She served as Deputy Chief Medical Officer for Partners in Health (PIH) from 2013 to 2016.  She also served as an advisor to the Medical Director of Mirebalais Hospital, a newly built public academic medical center established through a partnership between the government of Haiti and PIH.  Previously, she served as Director of Medical Education at Mirebalais Hospital, where she started the hospital's first three residency programs.
As a Howard Hiatt Global Health Equity resident in Internal Medicine at BWH from 2008-2012, Dr. Morse worked in Haiti, Rwanda, and Botswana.  She focused her international work in Haiti where she helped to coordinate Partners In Health's (PIH) earthquake relief efforts, was a first-responder for the cholera epidemic, and worked on women's health and quality improvement projects.  
Dr. Morse earned her B.S. in French in 2003 from the University of Virginia, her M.D. from the University of Pennsylvania School of Medicine in 2008, and her MPH from the Harvard School of Public Health in May 2012.  
Date & Time
Wednesday, October 14, 2020 at 12:00pm EDT